From emerging published reports, Two Chicago firefighters died after a wall collapsed during a 3-11 alarm fire at an abandoned South Side commercial building this morning, authorities said. Fourteen other firefighters were injured, including two who were trapped with the ones who died.    
Police squad cars escorted two ambulances north on Lake Shore Drive to Northwestern as ramps were closed to clear it of traffic, according to fire communications. One of the firefighters taken there has died, sources said. The condition of the other one was not known.    
A third trapped firefighter was taken to Christ Medical Center in Oak Lawn, where he died.  Late this morning, dozens of firefighters stood at attention, removing their caps and saluting, as the body of their fallen colleague was taken from the hospital and put in an ambulance.  A police escort led the ambulance to the medical examiner's office    
The fourth firefighter buried in the rubble, and as many as 12 other firefighters with undisclosed injuries, were also taken to hospitals. Fire officials and sources said 10 were stable and six were taken to hospitals in serious to critical condition, including the two who later diedThe firefighters' deaths came on the 100th anniversary of a huge fire at the Union Stockyards that claimed the life of 21 Chicago firefighters, the single greatest loss in U.S. history of professional big-city firefighters until Sept. 11, 2001.    
A dozen or fewer firefighters were in the building when the roof above them collapsed, said Fire Department spokesman Larry Langford. Firefighters searched through rubble for more than an hour as four trapped firefighters were pulled out and rushed to hospitals.    
"They worked hard, got them out fast," said Fire Commissioner Robert Hoff at the scene.    
He said the search was continued, with dozens of firefighters digging through rubble, because of the possibility that homeless people may have been in the building seeking shelter from the cold. Neighbors reported that squatters have been staying in the building, but no others were found in the rubble.    
The fire broke out about 6:54 a.m. in the abandoned one-story brick building in the 1700 block of East 75th Street.    
The fire was raised to two and then three alarms to save the trapped firefighters. A "mayday" was called. Firefighters also reported having problems with frozen hydrants.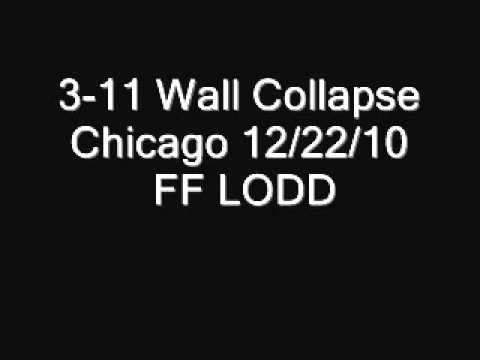 Informational Update-

The two Chicago Firefighters have been identified;
FF Edward Stringer:    

FF Corey Ankum:     

According to published reports; Initial incident reports are that FF Stringer and FF Ankum had been on or near the roof of the building in the 1700 block of East 75th Street this morning with other Firefighters when it collapsed. The building had a bow string truss in the rear and a flat roof in front. 34-year-old Cory Ankum from Engine 72, had been on the department only sixteen months.  Corey had previously served as a Chicago Police officer before joining the city's fire department.  His wife is Mayor Richard Daley's personal secretary.  He is a father of three children under 12 years old, including a  one-year old child.    

FF Edward Stringer, a 12-year veteran of the CFD and is reported to have several grown children and lives alone.  Published sources are indicating, he was working as a "relief Lieutenant", covering for another Lieutenant for an unknown reason .   

Before Stringer went in with the hoseline, the normally-assigned Lieutenant showed up told him he could leave now.  Stringer declined the offer, saying "I got it", and went inside.  The ensuing collapse killed him and Ankum.   
CHICAGO FD TERMINOLOGY:   
If you are unfamiliar with CFD terminology, procedures etc. BELOW is an excellent source for those details:
Courtesy of the CFD 5-11 Club
HERE IS THE RECORDED RADIO TRAFFIC INCLUDING THE BC TRANSMITTING THE MAYDAY:   
OFFICIAL UPDATES WILL BE POSTED HERE:    
Some additional Insight Materials for discussion;  
Firefighters and friends stand at attention as an ambulance carrying the body of Corey Ankum leaves Christ Medical Center in Oak Lawn for the Cook County medical examiner's office. (Zbigniew Bzdak/Tribune)
Latest posted reports state Seventeen (17) Firefighters were injured: HERE 

Firefighter followed brother into ranks, HERE

Firefighter 'loved his job'; HERE