NIOSH released it's report on the August 24, 2009 three alarm fire at 1815 Genesee Street in Buffalo, New York that resulted in the LODD of Lt. Charles McCarthy and FF Jonathan Croom. On August 24, 2009, 45-year-old career Lieutenant Charles McCarthy died following a partial floor collapse into a basement fire, and  34-year-old career fire fighter Jonathan Croom was fatally injured while attempting to rescue the Lieutenant.  The Buffalo Fire Department was dispatched for "an alarm of fire" with reported civilian(s) entrapment. Arriving units discovered a heavily secured mixed commercial/residential structure with smoke showing. Following failed initial attempts to locate an entry to the basement, crews located a door on Side 2 that provided access down a flight of stairs to a basement entry door. Repeated attempts were made to force open this basement door in order to search for trapped civilians, but crews had difficulty gaining access through this door because it was made of steel and locked and dead-bolted on both sides. Other crews on scene performed primary searches of the 1st and 2nd floors with no civilians found.
Approximately 30 minutes into the basement fire, command ordered all interior crews to exit the structure to regroup because crews were still unable to gain access into the basement from Side 2. Additional manpower was sent with special tools to assist in breaching the basement door on Side 2. Lieutenant Charles McCarthy and two fire fighters from his crew entered into the structure from Side 1 to verify all fire fighters had exited a 1st floor deli. Lt. McCarthy following a hoseline into the structure, was well ahead of the other two fire fighters when the 1st floor partially collapsed beneath him. McCarthy fell with the floor into the basement, exposing him to the basement fire. The other two fire fighters immediately exited the deli after fire conditions quickly changed and shelving and displays fell on them; they were unaware of what had just occurred. Lt. McCarthy made several Mayday calls from within the structure and activated his PASS device. Confusion erupted exteriorly on scene when trying to verify who was calling the Mayday, their exact location, and how they got into the basement.
The incident commander was aware that he had crews attempting to gain access into the basement from Side 2 but was unaware that there had been a floor collapse within the deli section of the structure. Simultaneously, FF Croom, a member of the fire fighter assistance and search team (FAST), was standing by outside  Lieutenant McCarthy's point of entry when the Mayday calls came out. It is believed that FF Croom  knew where the Lt., was since he had gone in the structure with him earlier in the incident. FF Croom grabbed a tool, went on air, and rushed into the structure. The FAST and additional personnel on scene concentrated on Side 2 initially while other fire fighters followed an unmanned hoseline into the deli. Crews within the deli quickly discovered a floor collapse and reported hearing a PASS device alarming. Lt. McCarthy was immediately identified as missing during the first accountability check, but FF Croom was not accounted for as missing until the third accountability check, more than 50 minutes after Lt. McCarthy's Mayday. After the fire was controlled, both victims were discovered side-by-side in the basement where the 1st floor had partially collapsed. They were found without their facepieces on and with SCBA bottles empty. the Lt's. PASS device was still alarming. They were pronounced dead on scene. Four fire fighters and one lieutenant suffered minor injuries during the incident. No civilians were discovered within the structure.
Key contributing factors identified in this investigation include working above an uncontrolled, free-burning basement fire; interior condition reports not communicated to command; inadequate risk-versus-gain assessments; and, crew integrity not maintained.
NIOSH has concluded that, to minimize the risk of similar occurrences, fire departments should:
Ensure that all personnel are aware of the dangers of working above a fire, especially a basement fire, and develop, implement, and enforce a standard operating procedure (SOP) that addresses strategies and tactics for this type of fire.
Ensure that the incident commander (IC) receives interior status reports and performs/continues evaluating risk-versus-gain.
Ensure that crew integrity is maintained at all times on the fireground.
Ensure that the incident commander (IC) receives accurate personnel accountability reports (PAR) so that he can account for all personnel operating at an incident.
Ensure that a separate incident safety officer, independent from the incident commander, is appointed at each structure fire.
Ensure that fire fighters use their self-contained breathing apparatus (SCBA) and are trained in SCBA emergency procedures.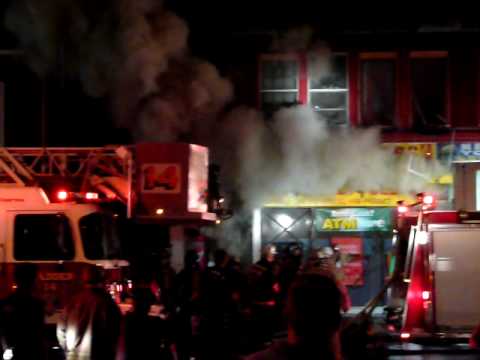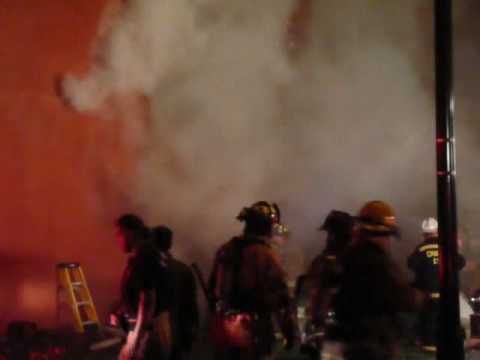 1815 Genesee Street
CONTRIBUTING FACTORS 
Occupational injuries and fatalities are often the result of one or more contributing factors or key events in a larger sequence of events that ultimately result in the injury or fatality. NIOSH investigators identified the following items as key contributing factors in this incident that may have led to the fatalities:
Working above an uncontrolled, free-burning basement fire.
Interior condition reports not communicated to command.
Inadequate risk-versus-gain assessments.
Crew integrity not maintained.
Time Line from the Buffalo (NY) Fire Department Investigative Report
3:51 a.m. – fire crews were sent to 1815 Genesee Street in Buffalo. When they arrived, they were met by a resident who said he heard people trapped inside. Crews began searching the building, but were eventually ordered out as conditions deteriorated.
4:22 a.m. – Members of Rescue 1 entered the building to make sure all firefighters had evacuated the building. Less than two minutes later the floor in the rear of the building collapsed. Lt. McCarthy of Rescue 1 fell into the basement as the floor collapsed. according to the report, other members of Rescue 1 were unaware of the collapse and only reported hearing a loud noise. McCarthy began calling for help on his radio, but other members of Rescue 1 were unable to determine where the calls were coming from and left the building unaware that Lt. McCarthy was trapped.
4:23 a.m. – Firefighter Croom entered the building after hearing the calls for help. the report says he did not exit the building, apparently falling into the basement near Lt. McCarthy.
4:31 a.m. – An emergency head count was ordered to determine the identity of the missing firefighter. Lt. McCarthy was reported missing at that time, but FF Croom was not. Firefighters in the front of the store reported hearing a pass alarm, but could not reach it due to extreme fire conditions, a weakened floor and continuing collapse.
4:48 a.m. – all crews were ordered out of the building because it had become unsafe.
Later, concerns began to arise that FF Croom was missing. the report says he was erroneously reported in a remote area.
5:46 a.m. – On scene personal realize FF Croom is missing and likely inside the building.
6:10 a.m. – Another head count is taken and FF Croom is reported missing.
9:18 a.m. – the Recovery Group reports that the two missing firefighters had been located in the basement, covered in fallen debris.
9:32 a.m. – the debris is cleared and Recovery Group firefighters reach Lt. McCarthy and FF Croom.
Buffalo (NY) Fire Department Investigative Report, issued December 2, 2009, HERE
For a comprehensive Power Point Program on Operational Safety at Heavy Timber and Ordinary Construction Occupancys that you can down load, go to the National Firefighter Near Miss Reporting Web Site HERE.
I produced an informational training PPT program and support information that aligned with a previoulsy reported Near Miss Event Report. You can download the PPT Training Program HERE and the PDF File HERE
NIOSH Fire Fighter Fatality Investigative Report 2009-23, HERE